Hello...G'Day...Namaste!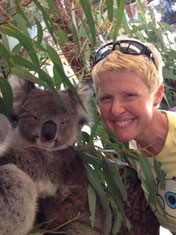 I grew up in Australia.  I trained as an Early Childhood teacher in Sydney and then did a further teaching qualification once I arrived in the UK.  I love to see children grow and develop their thirst for life and learning, and to be a part of nurturing this.
I was introduced to yoga in the early part of 2011 by my husband, who was keen to try a different form of exercise.  I very quickly began to see and feel the benefits of applying myself to a new physical discipline and really enjoyed the challenge of combining body, mind and breath in movement.
My journey into yoga brought me to the place where I wanted to see others develop their strengths, physically and personally, and to be a part of their yoga journey. Because of this I undertook the FHY Teacher Training diploma.  This is a Yoga Alliance Professionals recognised RYT500 Yoga Teacher Training course, offered by Feel Hot Yoga & Wellbeing St Albans.
Having taught heated and non-heated classes in various settings ranging from yoga studios to the prestigious health clubs Sopwell House and Champneys Tring, and from gyms to schools to Sweaty Betty shops, my teaching skills were both challenged and expanded during the Covid pandemic with the advent of online offerings via Instagram and Zoom!
I am now regularly teaching in-person Hatha and Vinyasa flow classes at Nuffield Health & Well-being gym in St Albans, as well as occasional cover of heated yoga classes at Feel Hot Yoga in St Albans & Watford.
I am also very blessed to be able to share the gift of yoga with children and teens, and their teachers, at various local schools.
Come, breathe, play!