Hello...G'Day...Namaste!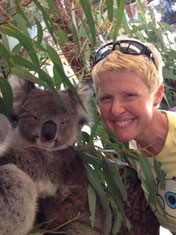 I grew up in Australia.  I trained as an Early Childhood teacher in Sydney and then did a further teaching qualification once I arrived in the UK.  I love to see children grow and develop their thirst for life and learning, and to be a part of nurturing this.
I was introduced to yoga in the early part of 2011 by my husband, who was keen to try a different form of exercise.  I very quickly began to see and feel the benefits of applying myself to a new physical discipline and really enjoyed the challenge of combining body, mind and breath in movement.
My journey into yoga brought me to the place where I wanted to see others develop their strengths, physically and personally, and to be a part of their yoga journey. Because of this I undertook the FHY Teacher Training diploma.  This is a Yoga Alliance Professionals recognised RYT500 Yoga Teacher Training course, offered by Feel Hot Yoga, St Albans.
I am now regularly teaching Hatha and Vinyasa flow classes at Nuffield Health & Well-being gym in St Albans, as well as occasional cover of heated yoga classes at Feel Hot Yoga in St Albans & Watford.
Alternatively, if you are nearer to Harpenden, I teach both Hatha and Flow classes at HPO Yoga and Pilates studio, a beautifully calming brand- new space in Marlborough Park.
Or maybe our paths might cross in the corporate world, where I teach group classes....or perhaps if you choose to enjoy a yoga class as part of your stay at Sopwell House in St Albans, Hertfordshire.  
I am also very blessed to be able to share the gift of yoga with children and teens at various local schools.
Come, breathe, play!